Olive Oil Fundraiser Gift Pack 3 x 250ml bottles - Order now for collection from Mandeville from 18th Oct 2019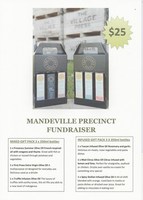 Packs available are:
Mixed Gift Pack (1 x Provence Summer Olive Oil with Oregano & Thyme, 1 x First Press Extra Virgin Olive Oil and 1 x Truffle Infusion Olive Oil)
Infused Gift Pack (1 x Tuscan Infused Olive Oil with Rosemary & Garlic, 1 x Med Citrus Olive Oil infused with Lemon & Lime and 1 x Spicy Sicilian Infused Olive Oil a hit of Chilli with Orange)
MIXED PACK
Provence Summer Olive Oil - Great with fish, chicken or tossed through potatoes and vegetables.
First Press Extra Virgin Olive Oil - A multipurpose oil designed for everyday use.  Delicious as a drizzle.
Truffle Infusion Olive Oil - The luxury of truffles with earthy tones, this oil lifts any dish to a new level of indulgence.
INFUSED PACK
Tuscan Olive Oil - Delicious on meats, roast vegetables and pasta dishes.
Med Citrus Olive Oil - Perfect for vinaigrette, seafood or chicken.  Drizzle over vanilla ice-cream for something very special.
Spicy Sicilian Olive Oil - Used best in risotto, pasta dishes or drizzled over pizza.  Great for adding to chocolate in baking too.